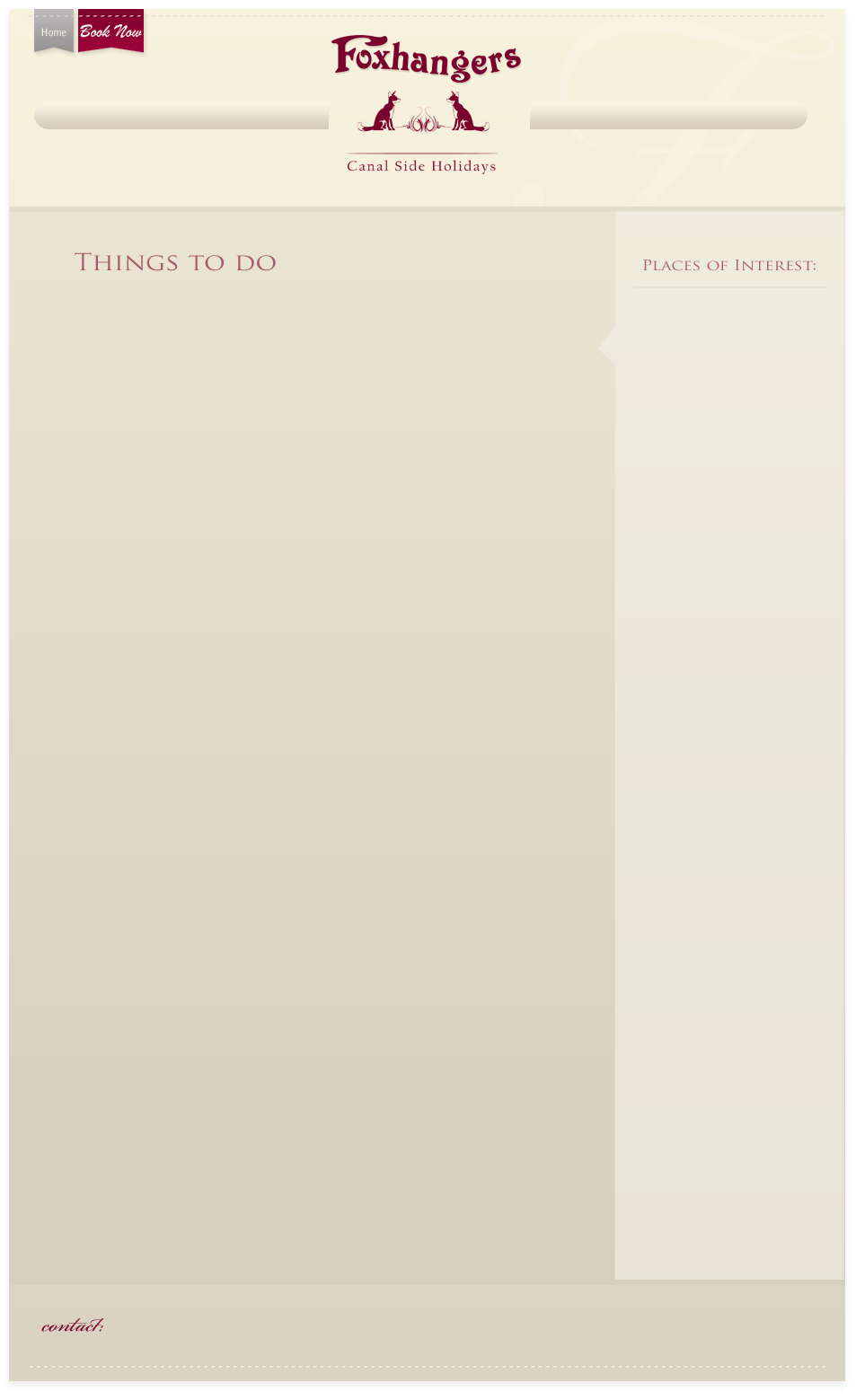 Walking

Lower Foxhangers is a 90 acre "evolving" farm, with a canal-side wharf offering narrowboat holidays and a marina of 40 boats at the
base of Caen Hill Locks.

Colin and Cynthia Fletcher welcome you to a relaxing holiday in our self catering holiday mobile homes, or if you prefer, our campsite.




Relaxing

Relax with pleasant dreams in our rural retreat amid the Wiltshire countryside. Roam the canal towpath and see the gaily-painted narrowboats as they lazily glide through the rippling water and climb the unrivalled flight of Caen Hills Locks, or explore the more challenging walk along the mysterious and undated Wansdyke.




Cycling

The all weather canal path from Devizes to Bradford on Avon and Bath, offers safe and silent cycling, free of charge. A growing network of rides and cycle-ways along Wiltshire's quiet roads, canal paths and disused railways now provide links to the Sustrans National Cycle Routes.





Fishing

The canal provides excellent coarse fishing and is well stocked with Common, Mirror and Crucian carp as well as Roach, Perch and Tench. Fishing from the towpath is controlled by Devizes Angling Association and day licences or fortnightly tickets are available from the farmhouse. Please note an N.R.A rod licence is required.
•
Wiltshire
Wiltshire is characterised by its
high downland and wide valleys.

•
The Kennet & Avon Canal
On the doorstep of Lower
Foxhangers
•
Devizes Flight & Town Centre
Historic town centre and amazing
engineering feat of 29 locks on the
canal
•
Lacock Abbey & Cloisters
Location of many of the Harry Potter
films
•
Avebury
Great walks around the historic
stones - why not try your hand at
the ancient art of dowsing?
•
Stonehenge
Historic stone circle
•
The City of Bath
Historic city centre with Roman
baths, great shopping and the
River Avon.
•
Bradford-on-Avon
Often described as miniature
version of Bath, Bradford offers
many hidden gems and treasures to
enjoy.

•
Stourhead Gardens
Fantastic gardens and forest on a
large estate with disabled access
walks available and accomodating
for dogs.
•
Bowood House & Gardens
Historic house and gardens on the
Bowood Estate.
•
Longleat Safari Park
Visit lions, monkeys, zebra and
much more from the comfort of your
car.